Your Hailie™ sensor automatically syncs your medication usage with the Hailie™ app after your Inhaler has been used. You need to wait until the Hailie™ sensor communicate with the Hailie™ app - this process might take a few seconds and sometimes up to a few minutes.
If you are using an iOS device, you can go to the Settings> Bluetooth menu to check if your Hailie™ sensor is listed as a 'Connected' device.
| | |
| --- | --- |
| | The Hailie™ sensor would only show as Connected when you use the sensor and as Not Connected when is not in use. The iOS devices have this feature to save power. |
Try the following steps to check how your iOS devices work when your Hailie™ sensor is communicating with your devices.
1. Go to the Settings menu and tap Bluetooth.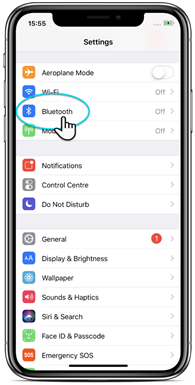 2. Ensure Bluetooth is enabled on your device. You might notice the Not Connected status next to you Hailie™ sensor serial number.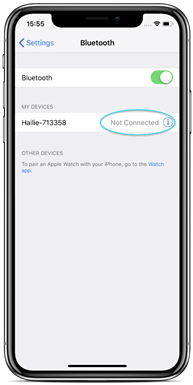 3. Take a dose of your medication and wait until you see the LED on your Hailie™ sensor flashes green. Your Hailie™ sensor will appears as Connected for a few seconds when it communicates with your devices and then it will change back to Not Connected.
If your Bluetooth is not the problem but you still can't see your usage on your Dashboard go to I cannot see data in the app. What can I do? and follow the instructions to troubleshoot some common problems.